We do not see things as they are, we see things as we are. ~

Anais Nin
Therapy is about Change
As a therapist, I believe that change is possible despite our past experience or current pain. I focus on client strengths and abilities as much as concerns. My approach is "holistic," recognizing the integrity of the mind-body-spirit connections, and "integrative," combining psychotherapy with nutrition and lifestyle. Care is taken to insure that sessions reflect client goals and facilitate positive change.
At its best, psychotherapy is a life-changing collaborative relationship that is inspiring, nurturing, energizing, challenging and authentic. This is my desire for every client.
Services
Pam has experience with a variety of therapeutic issues including anxiety, depression and other mood disorders, nutrition, parenting, marriage and family relationships, grief, divorce and other life transitions.
In-office services are provided for adults, couples and adolescents 16 and older.
Online therapy via video-conferencing is also available for adults 18 and older.
Not all therapy issues are appropriate for online therapy. Referrals and recommendations for treatment are made when online therapy is not the best choice.
When an online session is scheduled, you will receive a link via email to the HIPPA compliant portal and we will connect at the agreed appointment day and time. Credit card information will be secured for online sessions.
PLEASE NOTE: A Licensed Professional Counselor must be licensed in the state that the client being served is a resident.  I am licensed in the state of Texas, therefore you must be a resident of Texas to receive online therapy from me. This residency policy does not apply to in-office services.
Fees
The fee for a standard 60-minute session is $140. Extended sessions are available upon request and the fee will be prorated accordingly.
My practice operates on a fee-for-service basis and I request payment at the time of services in the form of cash, check or credit card.
For my clients with behavioral health benefits, I can provide the necessary documentation to submit a health care claim.
Office Information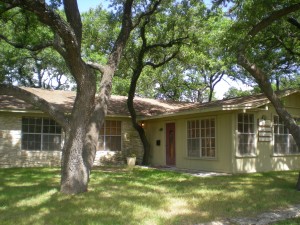 Pamela J. Firle, MA, LPC                                    
28465 Ranch Road 12, Dripping Springs, Texas  78620
Phone: 512-784-7770
Email: pamfirle@wholehealthwise.com
Web: www.wholehealthwise.com
The office is located just over 1/2 mile north of the intersection of Hwy 290 and Ranch Road 12 in Dripping Springs. Look for the red door and the mulched parking area on the west side of the road just beyond the Event Rental Center.
New Client Forms
Intake Forms   For couples, please have each partner complete a form.
Working Agreement  Please review this important policy information carefully.
HIPAA Disclosure  Detailed information about the privacy of your records.